Chiropractic Care for Upper Back Pain
Upper back pain is a common ailment and can develop easily. This pain can become debilitating if left untreated, making it hard to complete everyday tasks. If you are suffering from upper back pain, it is important to seek treatment as soon as possible. At Berry Hill Chiropractic and Wellness in Nashville, TN, our chiropractor will diagnose your condition and provide natural, effective techniques to alleviate your pain and help your body heal. Our goal is to help you return to a healthy, pain-free life.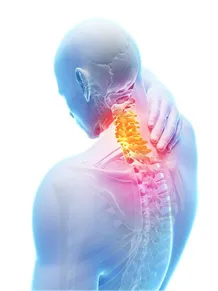 Causes and Symptoms of Upper Back Pain
While the upper back is more difficult to injure than the lower back, it is still possible. Upper back injuries or conditions are typically caused by repetitive use and poor posture.
The upper back area is referred to as the thoracic spine and consists of twelve bones. When these parts become misaligned, they can cause pain. This can happen with degeneration of the joints or from an injury. Other causes may take time to develop. Poor posture, including slouching and craning the neck, can cause tight muscles and pain in the upper back. This can also occur with repetitive movements or weakness in the upper back.
In cases of acute injuries, upper back pain may feel like a sharp, burning sensation. With overuse injuries, the pain is more of a dull and achy pain, causing stiffness and sometimes numbness. In both cases, the pain can make it hard to do physical activities or to twist the back.
Treating Upper Back Pain
When you first visit us for upper back pain, our chiropractor will ask about your lifestyle and medical history. We will perform a physical exam to look for the root cause of your pain and any underlying conditions. After a proper diagnosis, our chiropractor will create an individualized treatment plan for you. Your treatment can include one or a combination of our techniques.
Our chiropractor often uses spinal adjustments to treat upper back pain. By realigning the spine, we can alleviate tension and pressure in the back. This is vital for proper healing. For soft tissue injuries, our chiropractor uses other techniques. This includes cold laser therapy, muscle stimulation, massage therapy, myofascial release, ultrasound therapy, trigger point therapy, and more. These techniques work to release muscle knots and tension. They also improve blood flow and reduce inflammation, promoting natural healing in the body.
Visit Our Chiropractor in Nashville, TN for Upper Back Pain Treatment
If you are experiencing upper back pain, you don't have to continue suffering. At Berry Hill Chiropractic in Nashville, TN, our chiropractor provides personalized care to help your body heal and recover. Our chiropractic treatments are natural, safe, and effective. We are happy to answer any questions you have. Call us today to schedule an appointment.